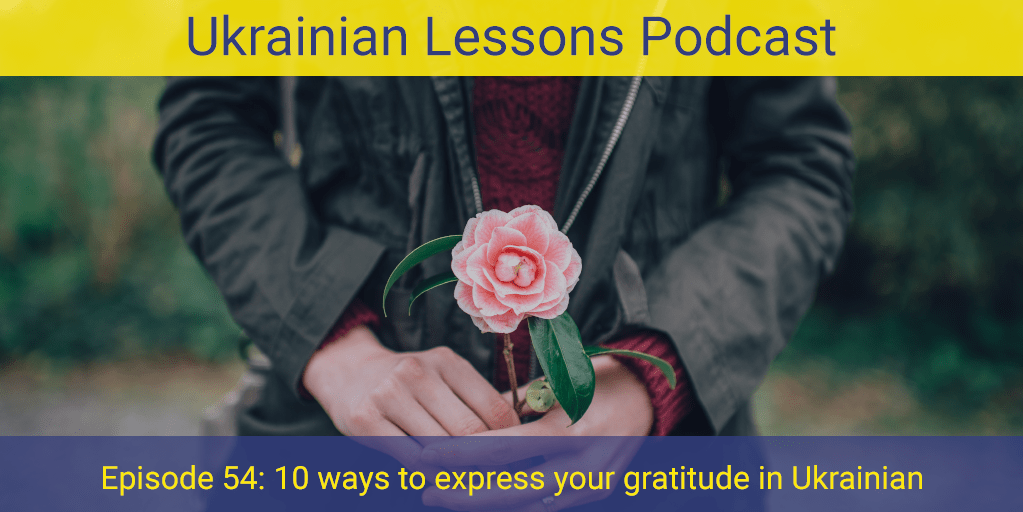 This Ukrainian Lesson is special. It is about how to express gratitude in Ukrainian, both verbally and non-verbally… And instead of a dialogue this time we have a beautiful song…  Щиро дякую, що слухаєте! Sincere thanks for listening!
---
In this Ukrainian Lesson you will:
listen to my introduction in Ukrainian;
listen to the part of Diakuyu by Okean Elzy (more Ukrainian songs translated by us here);
get to know 10 great ways to express gratitude in Ukrainian

(this part entirely in

Ukrainian language!);
See below the full list of expressions.
discover some non-verbal ways to be grateful in Ukraine!

(in English)
10 способів висловити вдячність українською – 10 ways to express gratitude in Ukrainian 
№1 Дякую! Дуже дякую! 
Thank you! Thank you very much!
№2 Щиро дякую! Сердечно дякую!
Sincerely thank you!
№3 Спасибі!
Thank you!
№4 Дякую за…
Thank you for…
№5 Я дуже вдячний (вдячна) за…
I am very grateful for…
№6 Я перед вами в боргу.
I owe you.
№7 Ти мене дуже виручив = Ти мене врятував.
You really helped me, you saved me.
№8 Завдяки тобі…
Thanks to you…
№9 Дякую, було дуже смачно!
Thank you, it was delicious!
№10 На знак вдячності…
As a sign of gratutude…
Дякую, що слухаєте! – Thanks for listening!
To help out the UL Podcast:
Rate us and leave a review on iTunes, Stitcher, Podbean or right here on the blog. Your ratings and reviews really help and I read each one.
Share this message on your social media or send it to your friends:
Learning Ukrainian? Then, I'm sure you'll enjoy the Ukrainian Lessons Podcast – https://www.ukrainianlessons.com/thepodcast/
Transcript, Vocabulary List, and Flashcards!
Download this Lesson's Notes for free! The PDF includes:
Full transcript & translation of the whole episode (except the cultural info which was in English);
Grammar chart: using Dative with the words of gratitude in Ukrainian;
Bonus Exercise: Dative case practice with the expressions of gratitude in Ukrainian;
Vocabulary List: new words from the episode in a chart with English translation.
As a premium member, you also get access to:
The lesson notes of the episodes you subscribe to;
Private Community on Facebook for the free practice of Ukrainian;
Digital flashcards with all the new words every 10 episodes!