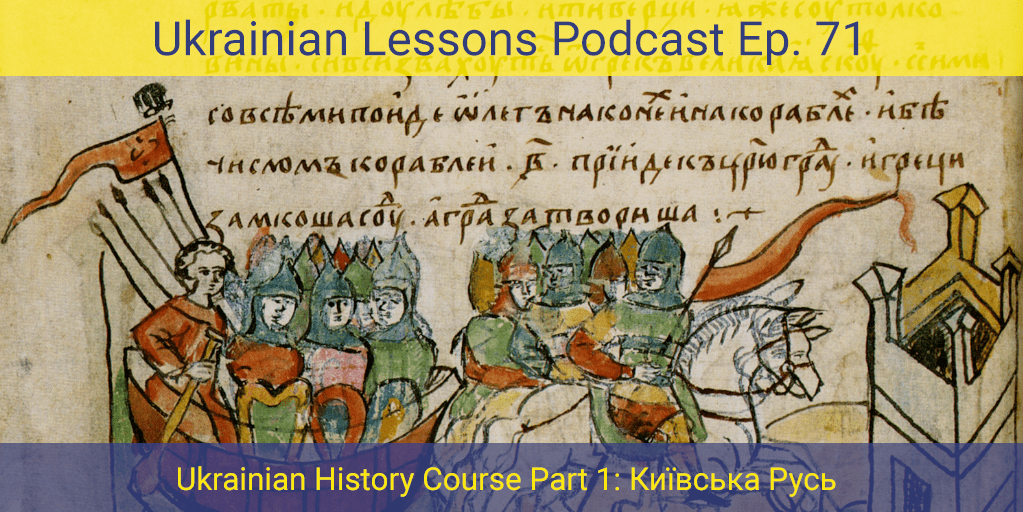 Ви готові до курсу історії України? Are you ready for a Ukrainian History Course? Have a look at some important historical expressions below before listening to this episode.
Енциклопедія: Important historical terms from this episode
Study these important terms before listening to the episode:
кіммерійці, скіфи, сармати, гуни, готи – names of the tribes (племена) living in the territories of modern Ukraine at different times
Херсонес – an ancient Greek colony (давньогрецька колонія) founded approximately 2,500 years ago in the southwestern part of the Crimean Peninsula.
слов'яни – an ethnolinguistic group of Slavs.
Чорне море, Біле море, Балтійське море – names of the seas that surrounded the territories where Slavs (слов'яни) were living.
Київська Русь – Kievan Rus', a federation of East Slavic tribes in Europe from the late 9th to the mid-13th century
Олег, Ігор, Ольга, Святослав, Володимир Великий, Ярослав Мудрий – the most powerful kings (князі) of Kievan Rus.
"Повість минулих літ" – the Primary Chronicle, the most ancient source of interpretation of the history of Kievan Rus', compiled in Kiev about 1113 by Нестор Літописець – Nestor the Chronicler.
"Золота Орда" – The Golden Horde, Mongol state established in parts of present-day Russia, Ukraine, and Kazakhstan after the break up of the Mongol Empire (Монгольська імперія) in the 1240s.
In this Ukrainian Lesson you will:
listen to my introduction about курс історії України;
learn some vocabulary to talk about history and time;
listen the first part of the Ukrainian History Course in 3 chunks with my explanations; 
try to solve a short quiz;
learn more about the fine line between facts and legends in the early history.
Transcript, Vocabulary List, and Flashcards!
Full transcript & translation of all the introduction and the lecture in history;
Encyclopedia: important historical terms explained;
Exercises: fill-in the blanks, true or false, new vocabulary practice;
Vocabulary List: new words from the episode in a chart with English translation.
As a premium member, you also get access to:
The lesson notes of the episodes you subscribe to;
Private Community on Facebook for the free practice of Ukrainian;
Digital flashcards with all the new words every 10 episodes!