Привіт! Вітаю на сайті! My name is Anna Ohoiko, I am a Ukrainian teacher and educational resources developer. I have created this website for learning Ukrainian to share good-quality and useful Ukrainian lessons online.
Start from learning the 100 most common Ukrainian words with our free list and flashcards. Then we have a great resource, 1000 most useful Ukrainian words to learn the necessary Ukrainian words with examples, flashcards, and pronunciation.
You can also enjoy learning Ukrainian listening to 120 episodes of the Ukrainian Lessons Podcast, as well as check articles on our Blog to learn Vocabulary, Grammar, and Songs.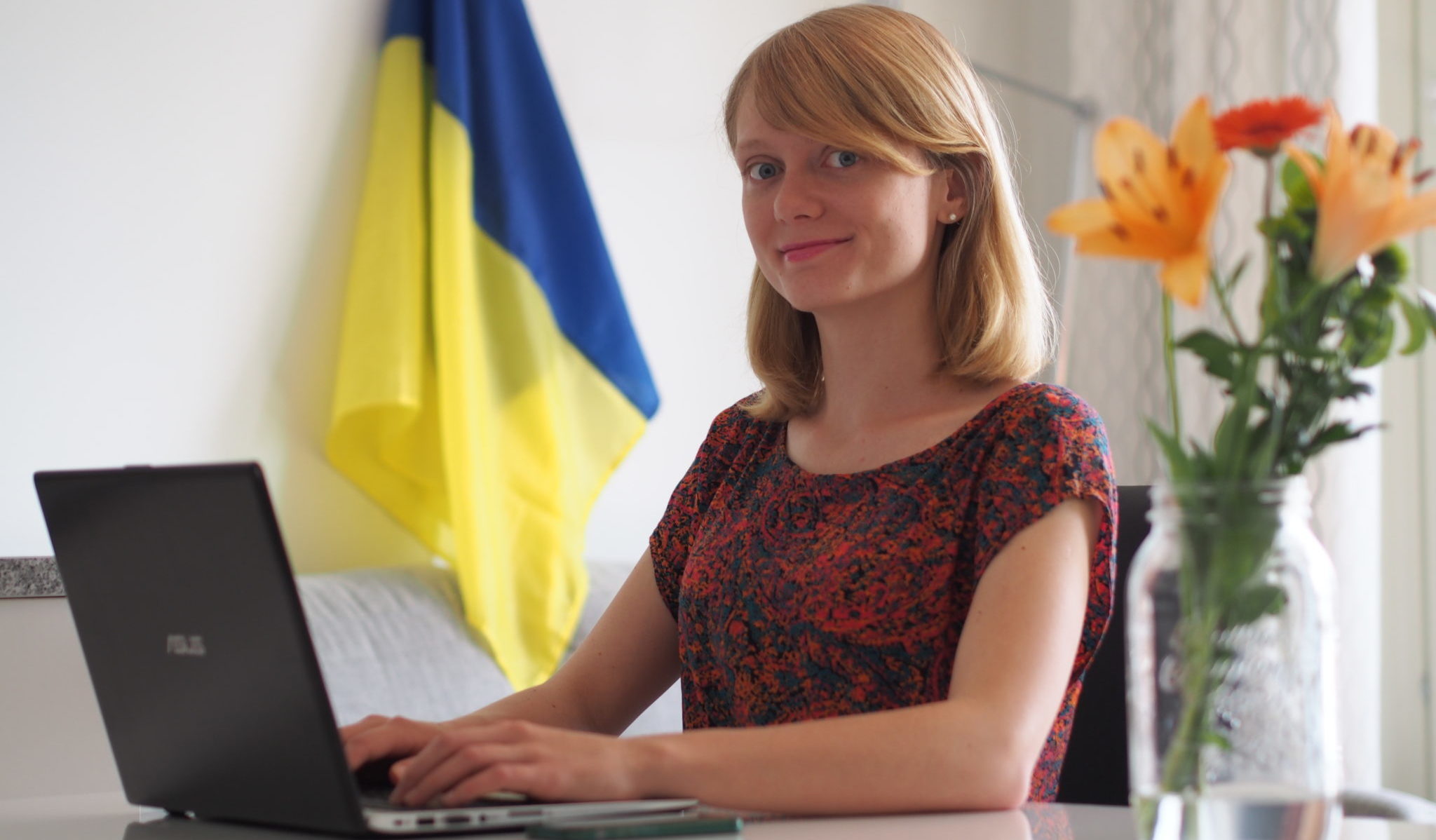 Ukrainian Lessons Podcast
Start learning Ukrainian, improve your language skills and discover Ukrainian culture with Anna Ohoiko and the weekly Ukrainian Lessons Podcast episodes.
Latest Ukrainian Lessons Podcast Episodes
Have you heard of the greatest Ukrainian режисер – movie director? His name is Олександр Довженко, he was an innovative Ukrainian movie maker and writer. Learn all about him in this podcast episode in slow Ukrainian!
read more
Ukrainian Lessons blog
Resources for your Ukrainian learning
Can you explain the difference between твій and свій? Let's learn more about reflexive Possessive Pronoun cвій in Ukrainian.
read more
Learn how to ask for help in Ukrainian: useful expressions for different situations. If you are here to get some help with your Ukrainian, you have come to the right place! 
read more
Some filler words in Ukrainian are also called слова-паразити (parasite words). They are usually frowned upon by refined native speakers. However, the vast majority of Ukrainians use them every day. If you study Ukrainian, you might find them very useful for those situations when you try to remember a word. 
read more
I know what you must be thinking: 10 meanings of the word "так"? It seems like too many! That's Ukrainian for you 🙂 Let's dive in!
read more
You can kill two birds with one stone by keeping up with news in Ukrainian. Firstly, you will stay informed and ready to discuss any pressing matters. Secondly, you will learn all the contemporary vocabulary. Here are a few of the most important and popular news sources in Ukraine.
read more
Traditional Easter greetings in Ukrainian are completely different from our usual Добрий день. Ukrainians love Easter and have a variety of traditions connected with it. No wonder – it is one of the biggest and oldest Christian holidays. In this short article you will find a way to greet your Ukrainian family and friends.
read more
Do you want to be able to say something instead of just nodding your head "yes" or shaking your head "no"? Here are a few useful expressions to agree and disagree in Ukrainian! 
read more
A lot of language learners need to know the best way to memorize new words faster. Having the right word on the tip of your tongue can be really frustrating! I know, I've been there. Today I've come up with a list of tried and tested 8 methods of learning Ukrainian vocabulary efficiently.
read more
Ukrainian cartoons are a source of simple and clear language. We've prepared for you a list of videos – old and modern Ukrainian cartoons!
read more
Ukrainians like singing a lot – we have around 200,000 folk songs! Check out our Top 10 Ukrainian folk songs list and tell us if there should be some more.
read more
Ah, the capital of Ukraine! I bet every Ukrainian learner has got a list of things to do in Kyiv. I've been living here for 12 years and the hardest part about writing this text was choosing only five things. I've managed though, so come with me on this little trip.
read more
Do you want to learn the Ukrainian alphabet? Or maybe practice Ukrainian pronunciation? Then the Ukrainian Alphabet guide with videos and examples is for you. Why does the Ukrainian alphabet look so different? 😳 The Ukrainian алфавіт or абетка (alphabet) is a...
read more