Start learning Ukrainian and keep going to reach your goals with our podcasts, books, and other inspiring resources. #StandWithUkraine by learning our beautiful language.
Looking for a well-structured and easily accessible Ukrainian language course that can easily fit into your life? Then our signature podcast is for you! With its 5 seasons (200 episodes), you can start learning Ukrainian, improve your skills at any level, discover Ukrainian culture, and fall in love with Ukrainian.
Want to start speaking Ukrainian right away, or prepare yourself for meeting Ukrainians? Then check out our series of 60 conversational mini-lessons ― packed with realistic dialogues at a natural and slow speed, essential phrases for the most common situations, vocabulary boosters, grammar points… and more!
Transcript and Translation
Extra Materials
Bonus Exercises
Flashcards
Master Ukrainian cursive writing with our colorful workbook created specifically for Ukrainian learners.
Привіт! Мене звати Анна Огойко
― My name is Anna Ohoiko. I am a Ukrainian teacher and founder of Ukrainian Lessons.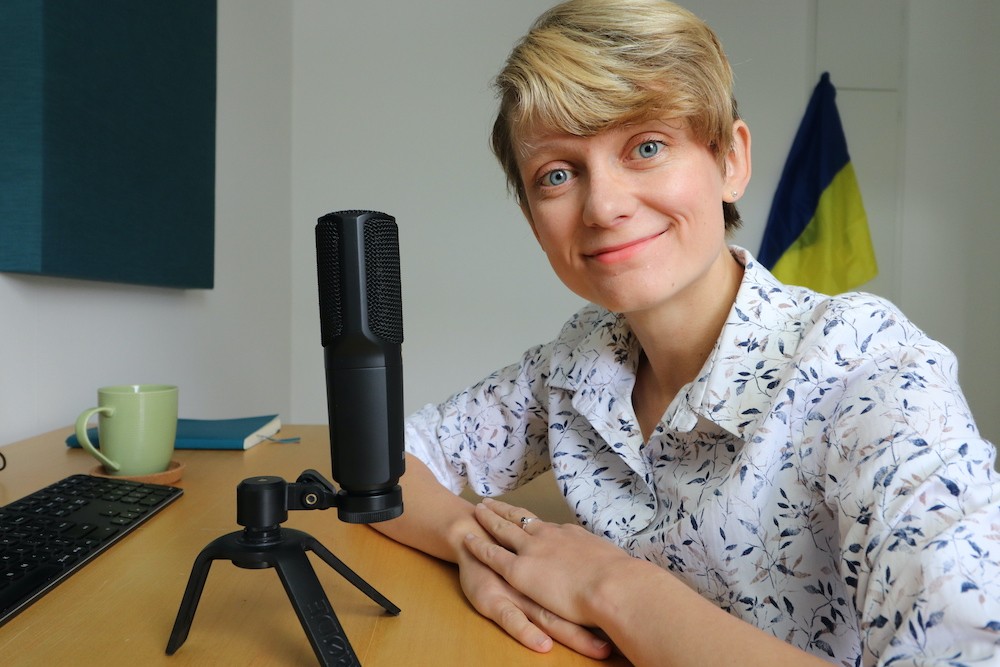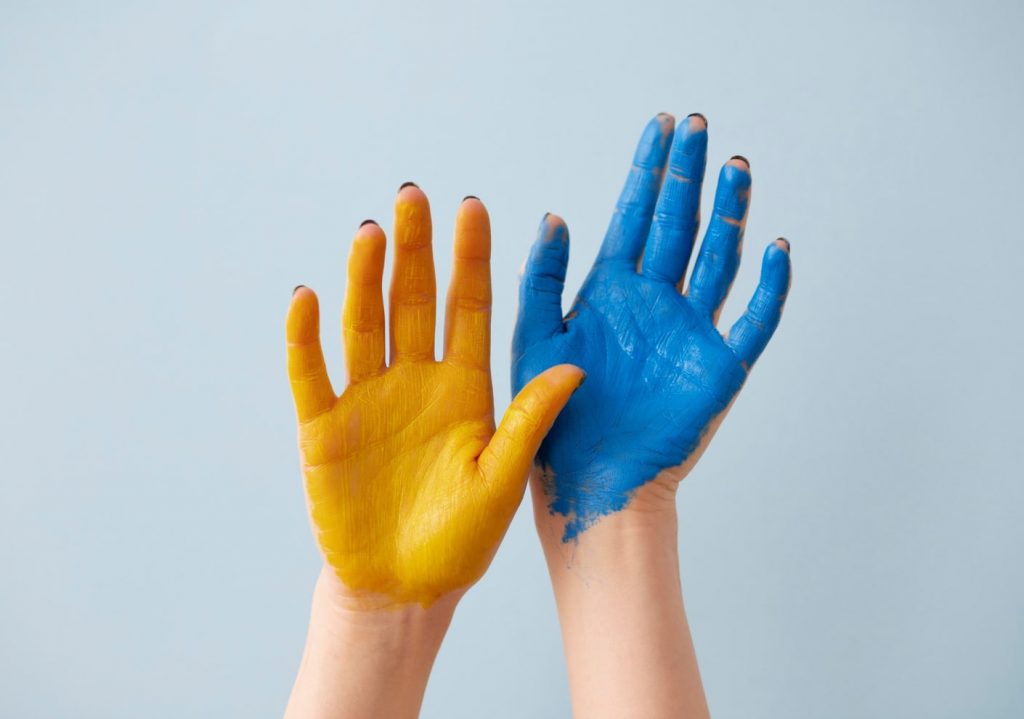 In January 2014, in the middle of the inspiring events of the Revolution of Dignity, I created a simple Facebook page to share materials with Ukrainian learners. I called it "Ukrainian Lessons ― a cozy place for learning Ukrainian."
Since then, Ukrainian Lessons have grown to two complete podcasts, four little books, a family-like team, and hundreds of happy learners who keep improving their Ukrainian with us.
Through our work, we want to inspire you to learn our beautiful language and use your skill as a weapon to support Ukrainians in our fight.
Join

0

members
of our Facebook group.
We are proud to host the largest community of Ukrainian learners on the Internet. If you get bored studying alone or have tons of language questions, head to our Facebook group for friendly support and inspiration.
This is our free Ukrainian digital textbook. Browse our blog for helpful articles, infographics, and audio that facilitate your learning and inspire you to move forward on your Ukrainian learning journey.
Looking for the description and examples of all Ukrainian cases in one place? Here is our full Ukrainian cases chart ― feel free to save and print it.
Ukraine is at war and needs your support more than ever. Even a few kind words in Ukrainian can help someone to feel a little bit better. Here is our list of Ukrainian phrases to express support to your relatives and friends from Ukraine!
Do you have/know children learning Ukrainian? Check out our handpicked collection of digital materials in Ukrainian for kids!
For decades, the Ukrainian riflemen's song «Ой у лузі червона калина» has symbolized national resistance and aspirations for freedom. Learn the Ukrainian and English lyrics of this song and enjoy its most popular interpretations!
Master your pronunciation with our collection of скоромовки – Ukrainian tongue twisters, listen and repeat!
Де м'яч? Where is the ball? Check our new infographics of the prepositions of place in Ukrainian, master your pronunciation repeating after the native speaker, and practice making some sentences!
How did Taras Shevchenko become Ukraine's prominent symbol, and why is his legacy still so relevant these days? Find out about Shevchenko and his impact on modern Ukraine in our article!
Looking for an authentic Ukrainian band with magnificent songs? Then you should probably listen to Один в каное.
I really love all resources offered by Анна Огойко and her team! The lessons, podcasts, blog posts, and now the new phrasebook are all excellent educational materials to learn not only Ukrainian but also the country's interesting culture and customs. You can tell that the resources are created with passion and a sincere love of language. They are also very aesthetically pleasing, and I am sure that a great effort is made that every little detail is perfect! I particularly like the podcast series (both the 5-minute Ukrainian and longer podcasts) as I like to learn full sentences and phrases while walking, cooking, or before going to sleep. My passion is learning languages and I have seen a lot of resources out there, but I have to say that Аnna's work is one of the best 🙂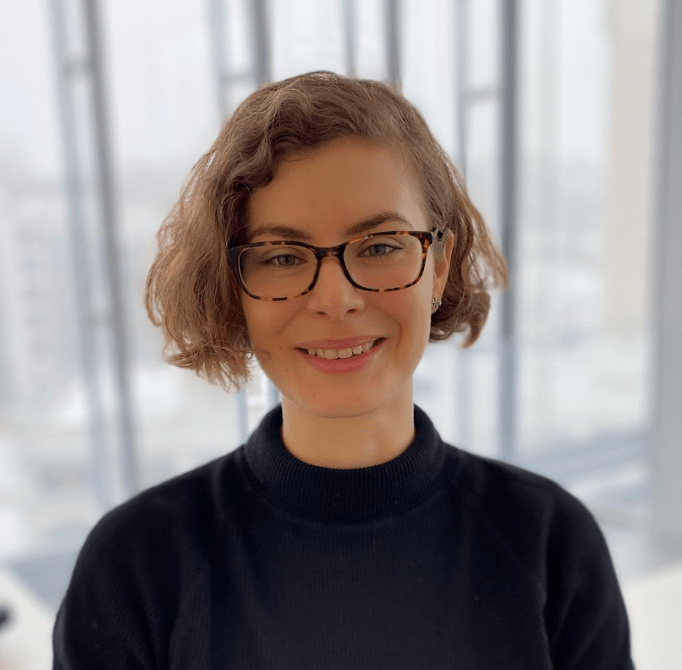 I love learning a language, and Anna's teaching is simply the best! It took finding myself tongue-tied speaking to Ukrainians in Ukraine today to nudge me toward studying my first language. You can find it all here in a most palatable and well-prepared mix ― grammar, vocabulary, pronunciation, language functions ― all served up engagingly with a serving of cultural knowledge topping it up like a spoonful of сметана! It doesn't get any better than this!
The premium materials not only help a student get more serious but cover reading and writing well.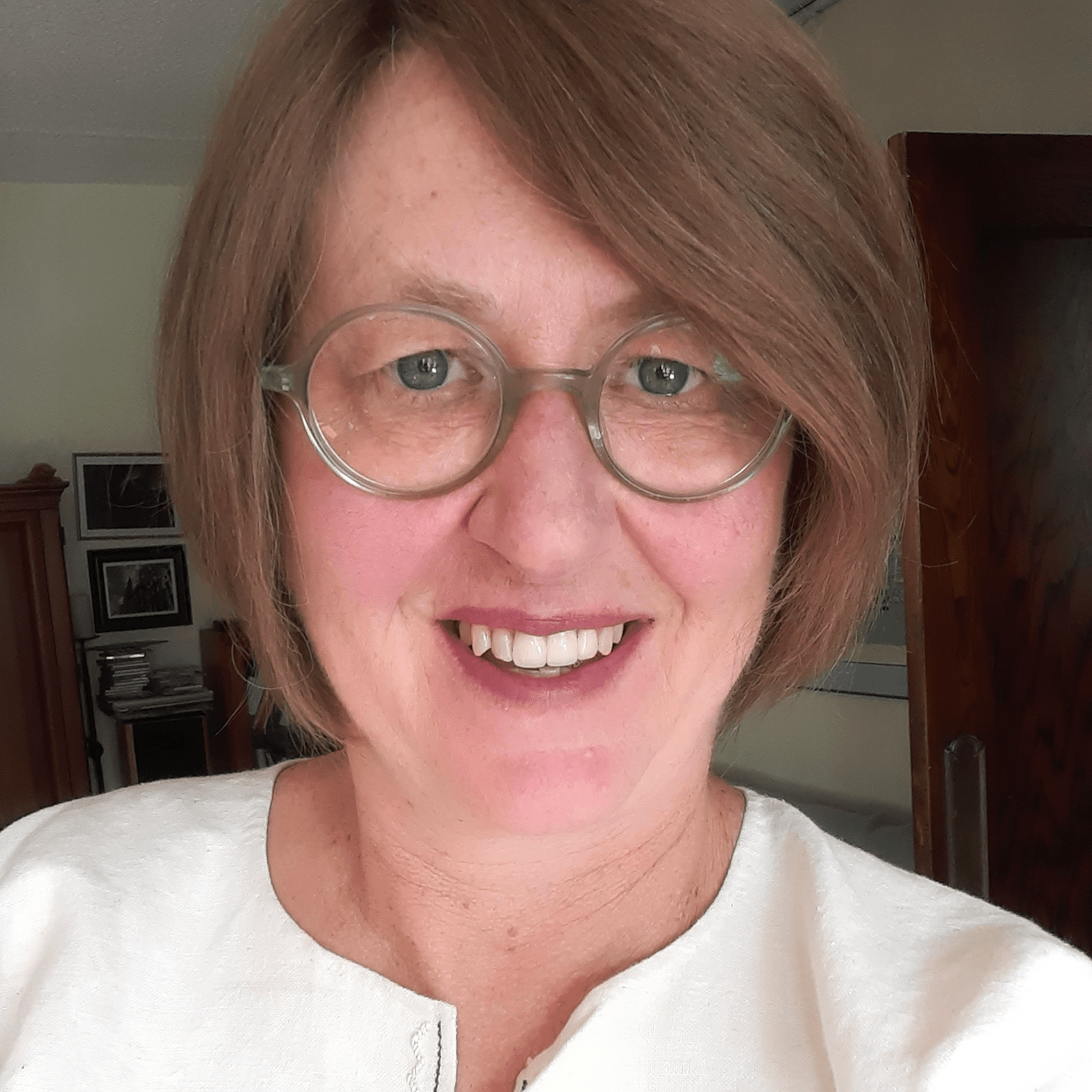 On my first visit to Kyiv, I felt confident about my already obtained basic skills in Ukrainian and was even slightly complimented for in a souvenir shop. A good deal I owe a huge credit to ukrainianlessons.com and of course to Anna. She takes you into this language, gradually enhancing new words and grammar. I also appreciate the cultural section at the end of each episode, which grants insight into customs or everyday issues in Ukraine. I like this style of teaching because it does not overwhelm you with mere vocab and grammar tables but practical situations. The lesson notes are also clear and understandable. So that's why you are always able to track the episodes.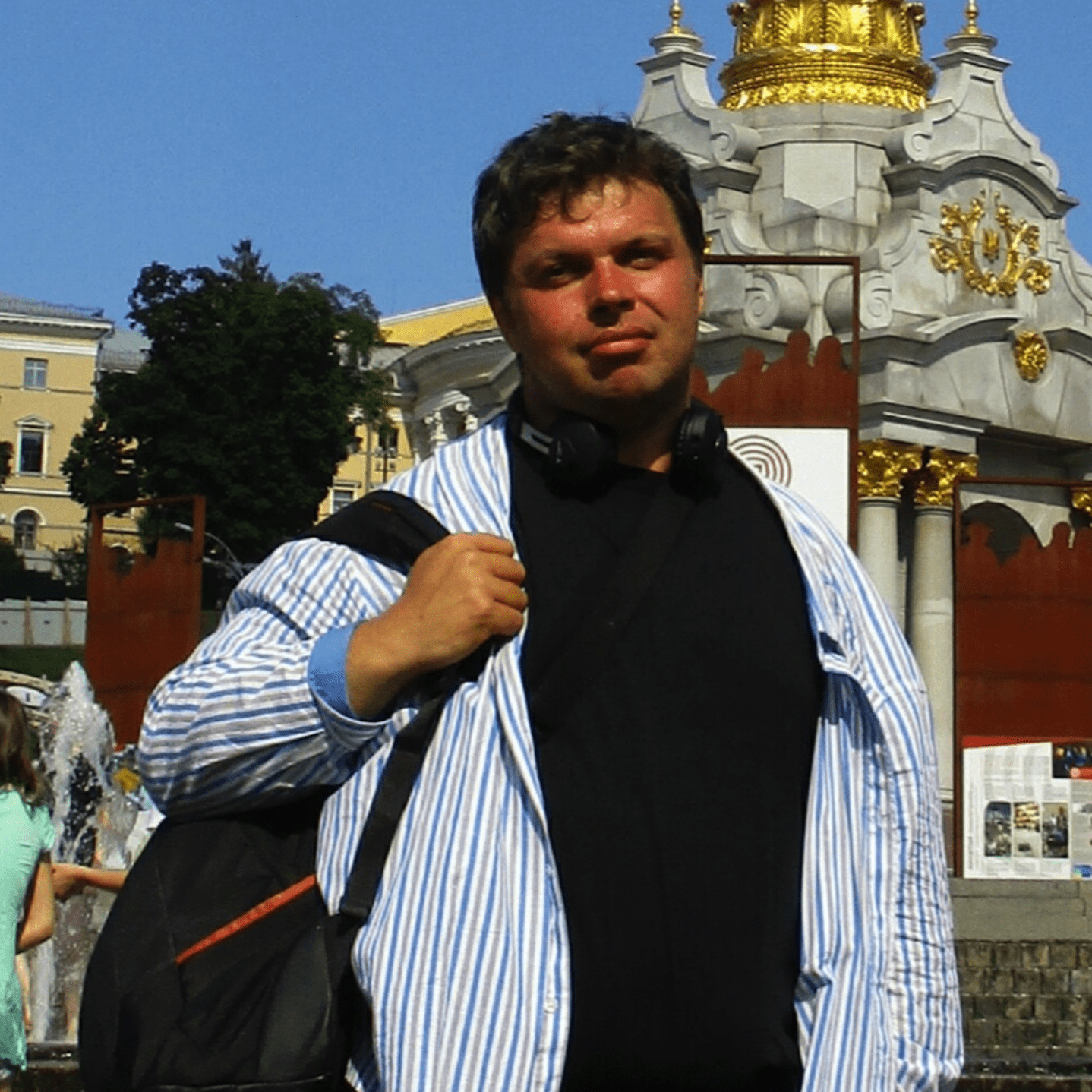 A very rewarding journey! Start with Anna Ohoiko. She has hands down the best FREE Ukrainian teaching podcasts in the universe. Everything else pales into insignificance.
She has me speaking after just 3 weeks of studying (following 6 weeks of less prolific self-study) and might make me fairly fluent by the end of this year. I spend so much time listening to her podcasts first thing in the morning and last thing at night that I have been dreaming in Ukrainian lately. In my last dream, I kept repeating "Голосове повідомлення" (voice message), not knowing what it was and when I woke up I did know what it is! There is a wealth of written and other bonus materials you can buy bit by bit as you progress.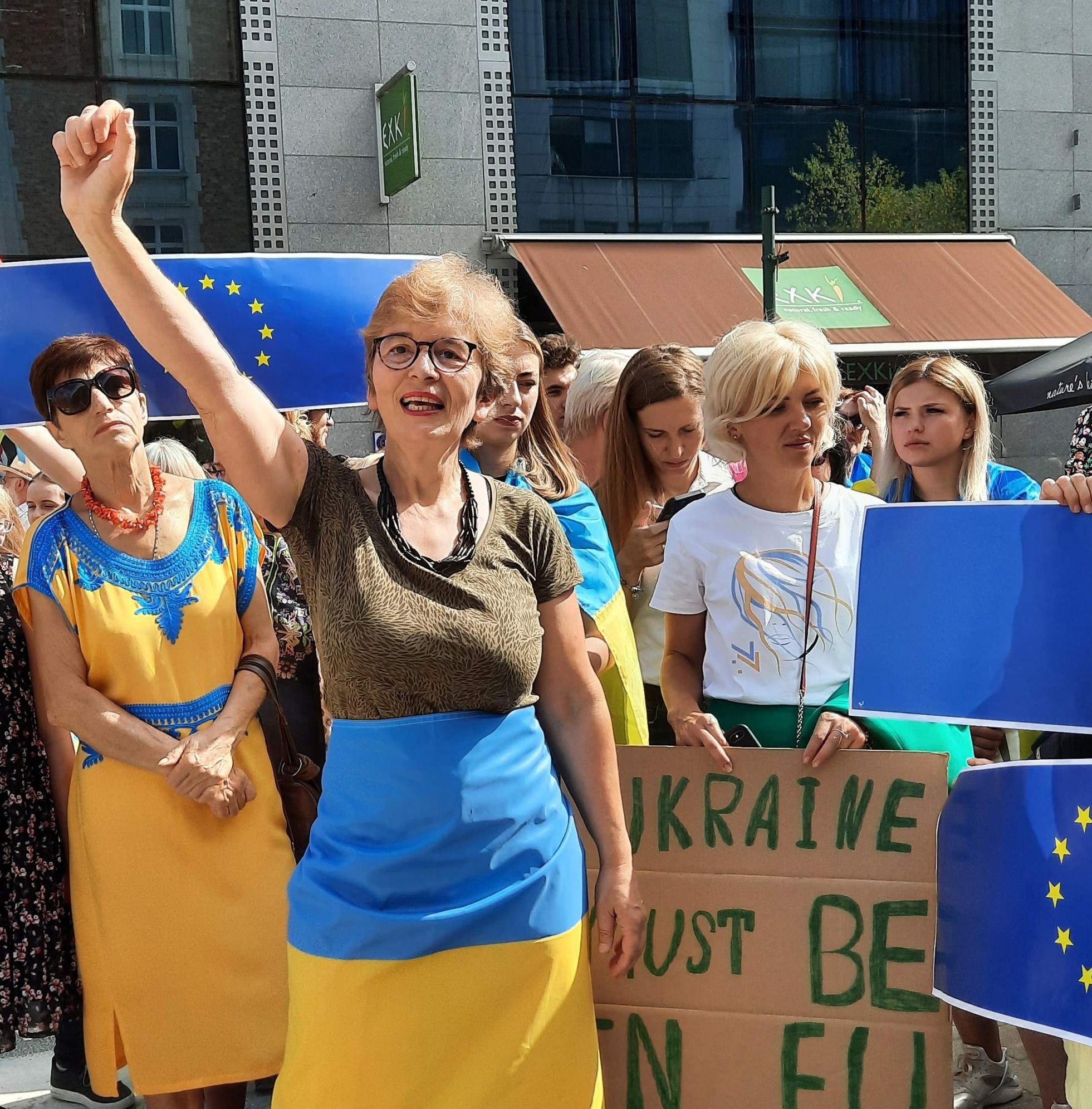 I am just thrilled to have come across a language program that is so relatable and user-friendly! My husband is originally from Ukraine and I want to learn the language. I decided to listen to one or two podcasts for interest's sake, but when Anna speaks on podcasts, it's as if she's there in person to teach you. I printed off the free lesson notes and before long decided to purchase all the available seasons! This is such a great tool to have scheduled learning of the Ukrainian language! It will help to make your dreams a reality!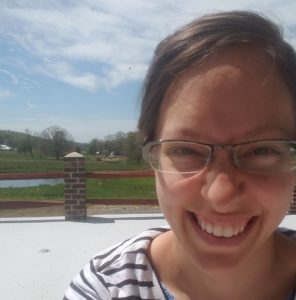 I wanted to reach out to compliment you on your incredible language course. I wish I had discovered it before going to Ukraine earlier this year! Your Ukrainian course is the first course I have found in a lifetime of language learning that really speaks to me. It is beautiful and organic. The pace at which new material is introduced is perfect. The explanations could not be better. The dialogues (especially the ones recorded "in situ"), the subject, and the cultural notes ― were all perfect. And not least, your teaching style, and the way you present yourself, are perfect. If I were to distill my lifetime of experience and create the perfect language course, I could not do better than you have done.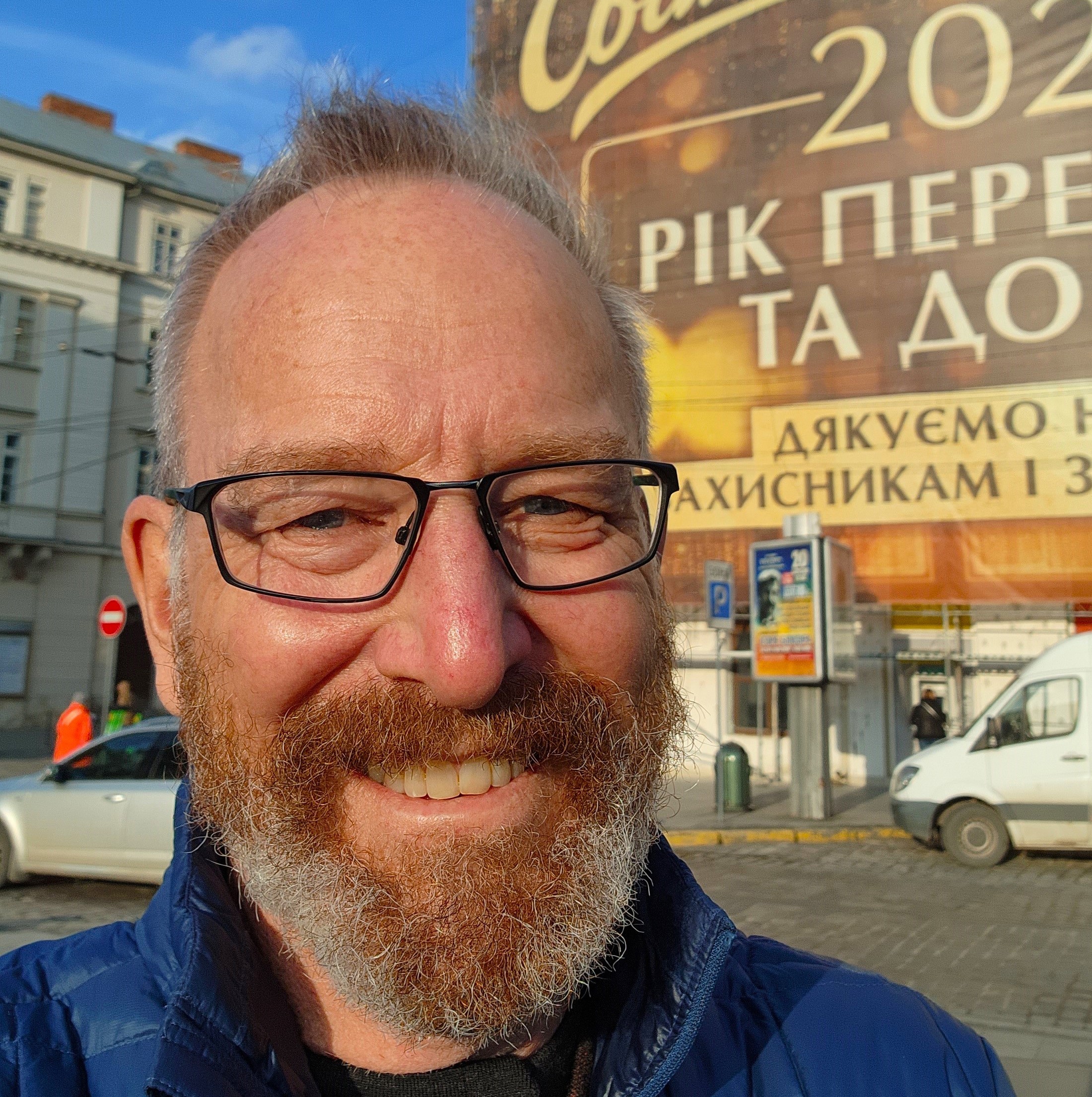 I am so happy to have stumbled upon this site/podcast! I think inaccessibility is a big issue for many language learners, especially something as niche as Ukrainian, and it is wonderful that Ukrainian Lessons Podcast is working to address that inaccessibility by providing the free podcast & an abundance of resources to further our language and cultural learning. I am more of a visual learner so I have more of a challenging time learning solely by audio but I was more than happy to invest in the PDF worksheets which are far cheaper than what I pay for textbooks to learn languages at University. I chose to learn Ukrainian to refresh what I learned as a child and further connect with my Ukrainian heritage and I'd gladly recommend this resource to anyone interested in learning this language.
My main reason for buying "Як Іноземці Козака Рятували" was to improve my grammar, and phrasing. Though, I quickly realized that it would also be an excellent way to improve my vocabulary, and find native expressions and idioms. I'm still not terribly confident in my language skills when speaking – and I feel that this is a good way to improve my confidence. The audio is excellent. It is easy to listen to, is a great further listening practice, and is helping me to solidify the correct stress patterns – which is an area in which I often make mistakes!
The most useful aspect to me is the self-contained nature of the book – almost everything you need to make the content comprehensible: is right there. With the addition of the audiobook version ― it's perfect for immersive, comprehensible content.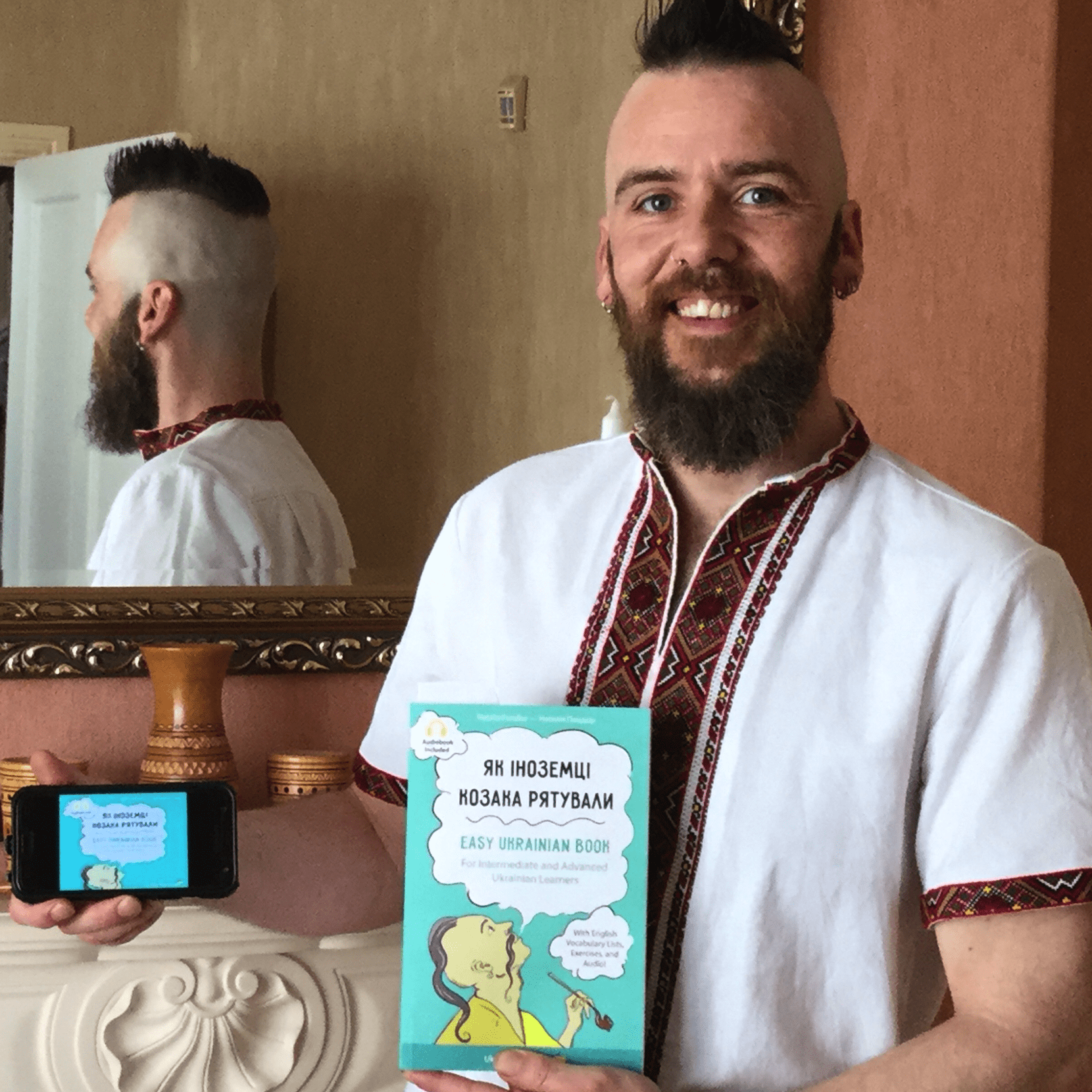 I love the Ukrainian Lessons Podcast! I am a Peace Corps Trainee, and I just moved to Ukraine, where I will be serving for 2 years. I listened to the podcast A LOT in the months before my departure, and now that I am here, I made it into the advanced language study group. My teacher said I speak very well, and she was especially impressed that I know how to conjugate some verbs. When she asked where I learned, I told her about this podcast! I've listened to every episode. Thank you!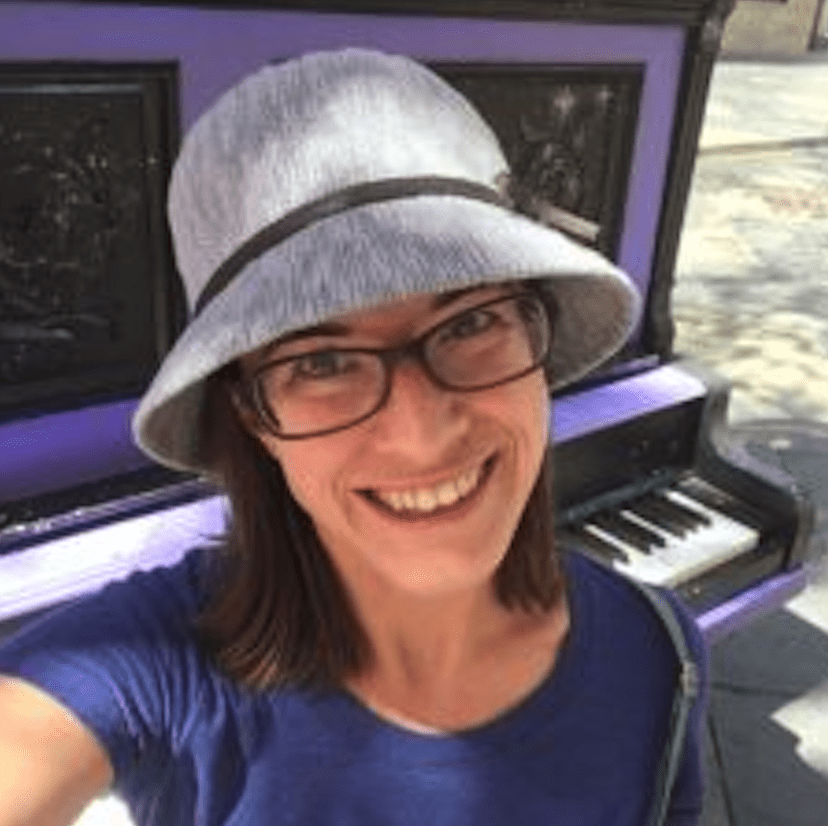 A big big THANK YOU from Australia! I have purchased the premium membership and have been enjoying your content immensely. I've started to learn your language to show support for my wonderful Ukrainian friend and for your beautiful country with everything that is going on right now. I believe that even as we feel small and weak in the shadows of the looming evil people in this world, we can give strength and power and purpose to the Ukrainian people and culture by keeping the language alive and by spreading the stories of your courage and resilience in your native tongue.