Try these 5 Ukrainian podcasts to improve your Ukrainian! Isn't listening the most difficult language skill to master? You work with your teacher, everything goes swimmingly until s/he plays a recording of some native speakers. Their speech seems impossible to understand, doesn't it?
No need to fall into despair! There is a great tool to help you with it – Ukrainian podcasts! You must have heard something about them. But have you tried using them to improve your Ukrainian? No? Let's do it then!
1. "Буде тобі наука"
(
Bude tobi nauka, 'you'll have a lesson'
) 
Level: A2 and up
To be honest, this isn't really a podcast. On this channel you'll find recordings of some articles published in "Куншт" (Kunsht), one of the greatest Ukrainian magazines. It teaches readers/listeners about the most fascinating discoveries in science.
This almost-podcast has two major advantages for Ukrainian language learners. First, its language is quite easy to understand as scientists mostly use common international terms. Second, you may find texts of the articles on kunsht.com.ua to use as transcripts.
This way, you improve two skills at the same time – and your Ukrainian gets some bonus points. Third, its name – "буде тобі наука" – is a play on words. Aside from 'you'll have a lesson', which is its literal meaning, there's an idiomatic one: you'll know better next time, you won't repeat your mistakes again. Don't thank me 🙂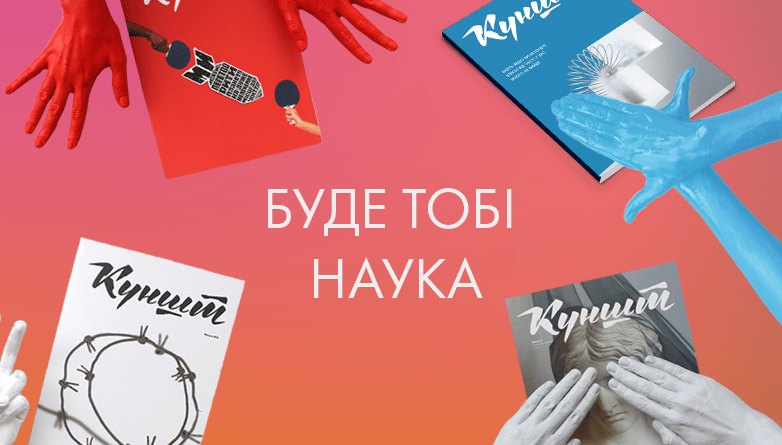 2. "Акустика Тіней"
(
Akustyka Tinei, 'acoustics of shadows'
)
Level: B1 and up
Behind the mysterious name is a podcast about world literature. The author, Ivanna Shkromyda, interviews literary critics and professors to present writers who shaped literature as an art. The most recent episodes are about Hermann Hesse, Albert Camus, and George Orwell. In between the stories of their lives, she plays some music to help you dive into the era they lived in.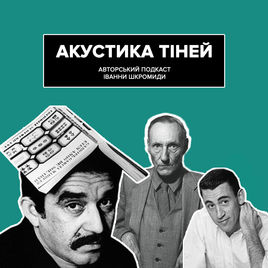 3. "Культурний лекторій"
(
Kulturnyi lektorii, 'cultural lectures'
)
Level: B1 and up
This podcast is a collection of lectures about cinema by Lukian Halkin. If you're a cinema-lover, you'll love it, too.
Don't worry, the speaker doesn't spoil any plot twists. Instead, he presents the history of this art based on facts and – more interestingly – juicy gossip. It's both educational and entertaining.
Also, it inspires you to watch (or rewatch) the classics, which have formed the world of cinema as we know it.
4. "Радіо Скорбота"
(
Radio Skorbota, 'grief radio
')
Level: B2 and up
Don't be so serious, this podcast is not really about grief. This may be the most ironic podcast on our agenda today. A few guys have decided to play some melancholic music while discussing the most random stuff. What's in it for you? Native speakers in their natural habitat, that's what!
Moreover, they play lots of contemporary Ukrainian songs and invite some artists to talk. Among the most recent ones, there are KAZKA, The Erised, and Хамерман знищує віруси. Trust me, you'll enjoy their silly conversations and witty jokes.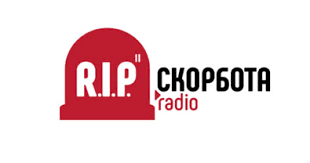 5. Ukrainian Lessons Podcast
Level: all
And last but not least – Ukrainian Lessons Podcast, the essential podcast for everyone learning Ukrainian. It covers all the main language points – both grammar and vocabulary.
It has two major parts – Ukrainian and English. The first one is native speakers talking, the second is Anna, the teacher, giving explanations and offering some insight to clarify what was said in the Ukrainian part.
There are three seasons, with each one getting more advanced than the previous. Season 1 is for complete beginners, Season 2 focuses on elementary and pre-intermediate levels. Season 3 is for the intermediate level learners.

What about Season 4 and advanced learners? Well, good news! New lessons are coming very soon!

***
I hope you have found something interesting among these Ukrainian podcasts. Put on your headphones, click 'play' and give your Ukrainian a boost! And then tell us about your experience in the comments below 😉
If you're in for something more visual, you should check out 12+ Ukrainian YouTube Channels To Practice Your Ukrainian 
---
Learning Ukrainian and looking for great resources? Check our 1000 most common words in Ukrainian with the interactive flashcards.