Would you like to learn how to wish Merry Christmas and Happy New Year in Ukrainian? Or find out how Ukrainians celebrate these holidays?
Our top episodes of the Ukrainian Lessons Podcast and 5 Minute Ukrainian series will tell you everything about Christmas and New Year's in Ukraine – with tons of useful Ukrainian vocabulary, grammar, and cultural insights!
Christmas and New Year greetings
in Ukrainian
If you want to share the spirit of holidays with Ukrainians, learn common greetings in Ukrainian to bring joy and cheer them up! 
No idea where to begin? Episode 23 of the Ukrainian Lessons Podcast is perfect for a start!

This audio lesson will teach you how to say Merry Christmas and Happy New Year in Ukrainian with proper pronunciation, give insights into Ukrainian diminutives and verb conjugation, and even become your karaoke set for Ukrainian Christmas carols! 
Level: A1/A2 (elementary)
Learn more elaborate ways to say holiday greetings in Ukrainian with Episode 63!  
Practice using tricky Genitive and Instrumental cases and discover more about our all-time favorite holiday and how Ukrainians celebrate it. 
Level: B1/B2 (intermediate)
In addition to our podcasts, have a look at our popular blog post on how to say Merry Christmas and Happy New Year (with audio recordings!)
If you are an advanced Ukrainian language learner, check out Season 5 of the Ukrainian Lessons Podcast – Episode 175 introduces creative ways to wish Happy New Year with a popular Ukrainian song by Скрябiн.
This audio lesson is entirely in slow Ukrainian – perfect for language immersion! 
Level: C1 (advanced)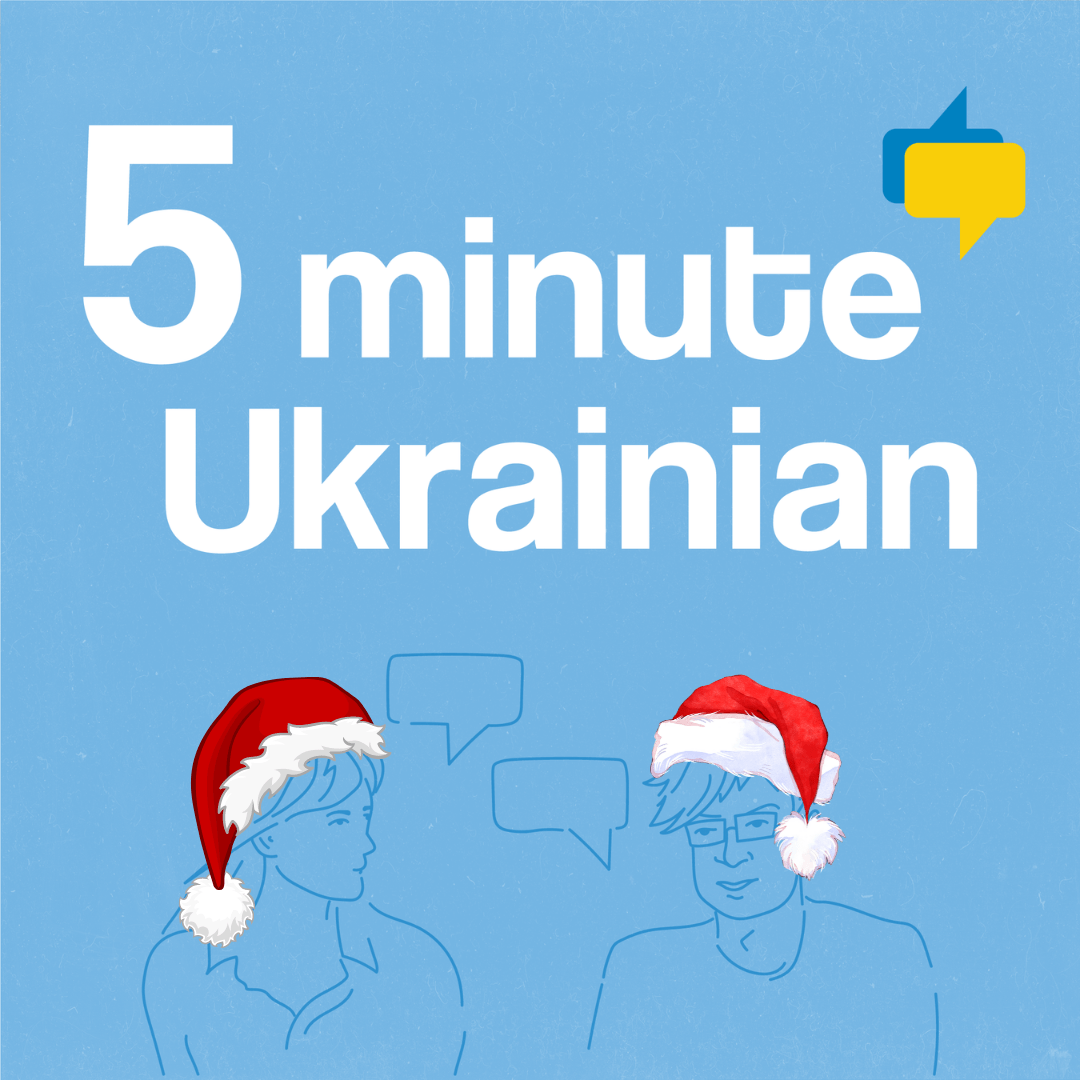 For more practice, listen to 5 Minute Ukrainian – Episode 27 covers Ukrainian holiday greetings and what they mean in just a few minutes! 
You can memorize many useful Ukrainian words and expressions while shopping or on a daily commute. 
Level: A2 (pre-intermediate)
Christmas and New Year traditions in Ukraine
Language learning is not merely about boosting your vocabulary and drilling grammar rules – it is also a way to immerse yourself in a new culture. 
With our podcasts, you can learn comprehensively not only the language but also Ukrainian culture and customs. 
You can feel the taste of the traditional Ukrainian Holy Supper – Свята вечеря – with ULP Episode 61. 
Names of Christmas dishes, dozens of varenyky types, grammar tips – this lesson will make you hungry and eager to learn more! 
Level: A2 (pre-intermediate)
We cannot imagine the spirit of Christmas without carols, or колядки in Ukrainian. Their melody and lyrics introduce the richness of Ukrainian culture and unique national traditions. 
With ULP Episode 64, sing along to a famous Ukrainian Christmas carol (with vocabulary and grammar explanations)!
Level: A2 (pre-intermediate)
Do you enjoy singing Ukrainian songs? Check out the original lyrics and English translations of Ukrainian щедрiвка «Ой сивая та і зозуленька» on our ad-free blog!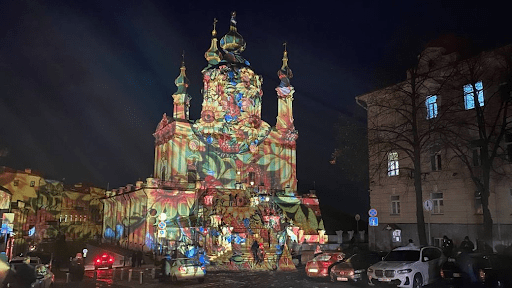 How did Ukrainians celebrate New Year's Eve before 2022? 
Listen to informal conversations about plans for New Year's and practice the Instrumental case of pronouns with ULP Episode 62!
Level: A2 (pre-intermediate)
The winter holiday season is full of various festivities and traditions. Discover customs of Ukrainian winter holidays and their meaning in ULP Episode 173 in slow Ukrainian!
Level: C1 (advanced)
Winter holidays in Ukraine
Christmas and New Year's Eve are beloved for leisure time and an opportunity to spend some quality time with family. 
In Episode 27, there are lots of insights about popular winter sports in Ukraine, traveling to the Carpathian Mountains, and the past tense in Ukrainian!
Level: A1 (elementary)
Children are especially fond of holidays, so schools and kindergartens organize fun festivities with gifts, games, and performances. 
Find out about Christmas time celebrations in Ukrainian schools along with the perfective future tense in ULP Episode 96!
Level: B1 (intermediate)
Let's make some plans for winter vacation together!
ULP Episode 197 will guide you through common Ukrainian vocabulary and the future tense of verbs of motion. 
Level: B1 (intermediate)
***
Make use of your winter vacation and learn Ukrainian with our podcasts on our website or on your favorite podcast app!
Веселих свят! – Happy holidays!
---
Learning Ukrainian and looking for great resources?
Check out our list of the 1000 most common words in Ukrainian with interactive flashcards. You can also learn Ukrainian step by step wherever you are with our free Ukrainian Lessons Podcast.